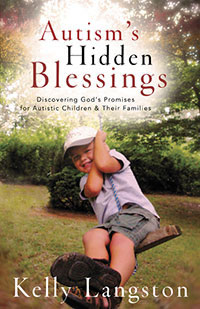 Kelly Langston is a remarkable mom who also happens to have an amazing son with autism. She has just launched an online Bible study growing out of her book Autism's Hidden Blessings and YOU are invited! Her publisher is also offering Autism's Hidden Blessings free of charge for just a few days here, so don't wait to pick it up.
I haven't read the whole book...but eagerly and tearfully devoured the first section. Kelly is a committed Christian whose message to other Christians is one of hope and promise. If you are in need of God's encouragement as you raise a child with special needs, this might be just the book for you.
Her message isn't limited just to families having kids on the autism spectrum. No, it meets Christian families who face disabilities of all kinds.
If you are interested, please check out Kelly's blog to learn more about the online Bible study. Enrollment for the study is only open until Friday, May 4th, so you'll want to sign up speedy-quick. Kelly will be offering a light weekly homework assignment and open it up for discussion in an online study area. I sure would love to meet some of you there!
If you don't have time for the study itself, hopefully you will still download and benefit from Kelly's book. If the rest of it hits as close to home as the beginning section, I can tell it's going to be hugely encouraging and strengthening in my faith.
* * * * * * * * * * * * *
5-6-12
Kelly had to close this session of her Bible study on autism and other special needs, but there is great news if you missed the sign in time! You can ask to be added to a waiting list for a future session. Click here for the link to Kelly's waiting list. She'll let you know when that next session is scheduled.
I encourage you to sign up. This first session is so encouraging so far! There are 400 parents supporting and cheering each other on as we claim the biblical promises God has made us and our children.